Crickmay - April 21st 2021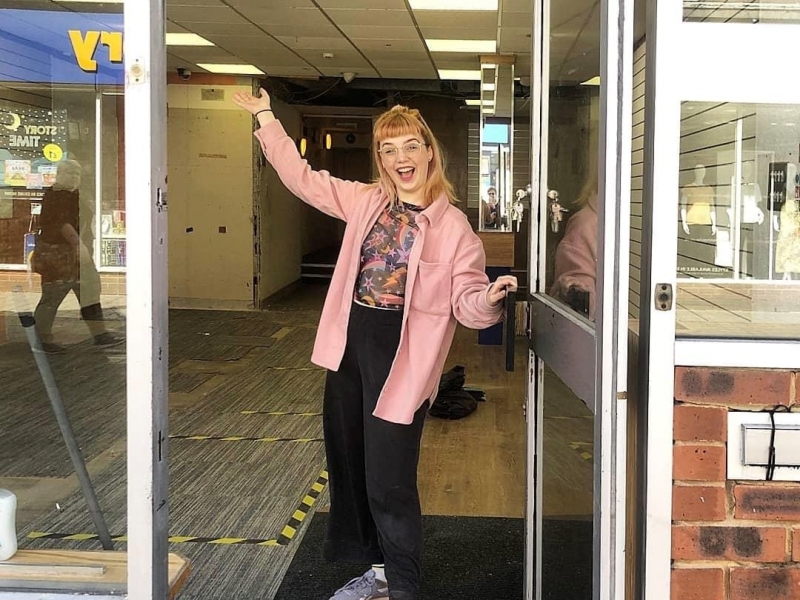 Horsham creative placed in empty shop in Horsham for a free 6 week project space!
Crickmay have recently teamed up with Hypha Studios - which has recently set up to discover local artistic talent all over the country and match them with vacant shop units to reimagine the high street.
We recently did an open call in Horsham and the trustees (from the Royal Academy in London) and Eddie Peake (famous contemporary artist) are excited to announce that Clare Packham will be the third creative to be hosted in a Hypha Studio project space- for free, for 6 weeks.
Clare Packham is a performance artist, director and writer, specialising in experimental postdramatic theatre and new musical theatre (@pinchytheatre) Having lived in Horsham since she was born, she has directed numerous theatrical performances in the town. She recently graduated from the University of Bristol with a First Class Honours Theatre & Performance degree.@claw.slackham
You will be able to see Clare & her practice through the window of 20 West Street, Horsham, RH12 1PB between 19th April - 3rd June 2021.
PUBLIC EVENT - TBC 29th May. Alongside her existing projects, Clare will be using her time in the space to develop a new concept around dreams and collective cultural memory. She has been recording accounts of her dreams for over a year, alongside her collaborator and composer Fintan Kealy. After discovering her late Grandfather had written down all his dreams, she has been interested in finding correlations in our dream worlds. She wants to engage the public through this, and will invite passers by to share their dreams with her, which will be used to create an audio experience, or 'dream walk' of Horsham town centre.