Need assistance with the nitty gritty?
Then you're looking in the right place. With our years of experience in dealing with commercial property management throughout the South East, we are well placed to advise you on the impact of legislation to ensure that your investments are kept running smoothly.
Clients use us for our reliability and our 'no compromise' approach to detail. To find out how our day to day management service can help make your life easier, contact us here.
Rent collection

Give yourself the luxury of focusing on the bigger picture

As an investor, being bogged down in the detail isn't conducive to growing and running a successful operation. That's why we pride ourselves on being able to offer our clients a flexible and specialist rent collection service tailored to their precise requirements.

Some clients use our rent collection service in conjunction with our day to day management offering, while others simply use it in isolation. Either way, our clients benefit from the peace of mind that their money is held safe in a designated account in accordance with the RICS (Royal Institution of Chartered Surveyors) regulations.

Efficient, robust, trustworthy and reliable: these are all words that clients have used to describe our rent collection service. Start seeing the benefits for yourself today by contacting us and speaking to one of our property management professionals.

---

Service charge administration/day to day management

We administer service charge accounts for a wide range of clients on commercial and residential properties, and also use our experience to act in respect of mixed use developments combining commercial and residential uses.

As with our rent collection services, all monies are held in a designated client account. We are able to advise on the setting of budgets and programming of work, with the emphasis on obtaining value for money, through the use of our established network of service providers and contractors.

We can advise on the impact of legislation on the management of clients' property holdings to ensure the smooth running of their investments.

We are able to produce annual service charge accounts at the year-end in accordance with the relevant guidelines ready to be certified or audited. We can also act as Company Secretary, ensuring that the administration of a company is correctly undertaken.

---

Insurance services

Protecting your hard work

In order to provide our clients with a fully comprehensive 'no compromise' property service, we run our own buildings insurance block policy. This covers property damage, business interruption, loss of rent and property owner's liability.

In addition, because the policy is run in-house we can offer our clients very competitive rates and favourable terms and if a claim is made, we can process it on your behalf.

Our insurance provision includes optional engineering cover including statutory inspections and cover for the directors/officers of freehold management companies. This provides indemnity against claims whilst acting as a director or officer of the company.

Appointing Crickmay to support your property needs doesn't stop at the survey or rent collection stage; we can help protect the fruits of your labour too. For more information on our insurance services speak to a member of our team today.

---
Ciara Bolsover
T: 01403 756512
M: 07800 846972
Email Ciara
View More Details
Case study


Stanford Square, Worthing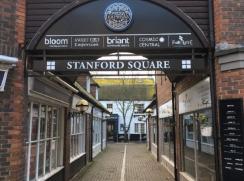 Stanford Square, home to the Grade II Listed Stanford's Cottage, where Jane Austen spent the latter part of 1805, is now an attractive development of retail and restaurant units with a range of occupiers including Pizza Express...

Read More

Case study archive